School Overcrowding Persists; Average Class Size Declines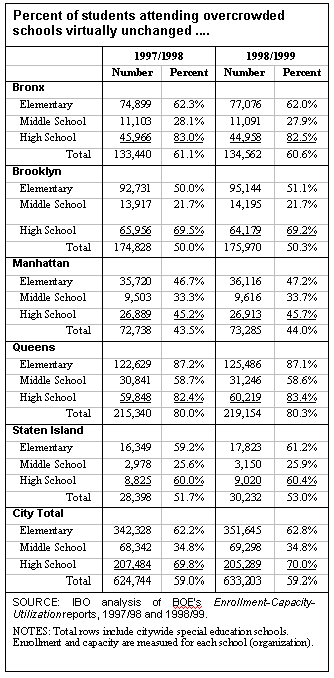 School crowding. Overcrowding has plagued the city schools for many years and will continue to be a problem in this coming school year. While the Board of Education (BOE) reports that it is providing 19,600 new seats for this year, IBO analysis finds that the majority of students will likely still be in overcrowded conditions. The addition of new seats in overcrowded areas will help alleviate some of the problem. In most cases, however, the affected areas will remain overcrowded.
IBO analysis of BOE data shows that crowding in the 1998/99 school year was virtually unchanged from the prior year, with 59 percent of students attending schools where enrollment exceeded 100 percent of capacity. The severity of the problem varied, however, according to instructional level and borough.
For example, Queens, where enrollment has been surging, continued to have the largest share of students in crowded schools at 80 percent, while Manhattan had the lowest share at 44 percent. In the Bronx and Brooklyn, high schools were the most crowded. But in Queens, Staten Island, and Manhattan, elementary school students fared the worst.
Citywide, high schools remained the most crowded, with 70 percent of students attending overcrowded schools last year. They were followed by elementary schools (63 percent). Across all boroughs, middle schools were by far the least crowded (35 percent).
Class size. This coming school year marks the start of a new initiative whose goal is to reduce the average K-3 class size to 20 students over the next three years. The city will receive $109 million ($48 million in state funds, $61 million in federal funds) for the first year of the program. Future funding is considered uncertain in light of this year's controversy over whether the state would fund the program and lack of a federal commitment beyond the current year. According to BOE, this year's funding will be used to hire roughly 1,800 new teachers targeted at grades K-3 in the lowest performing schools. With the average K-3 class having 24.9 students, reducing the average class size to 20 is a major challenge.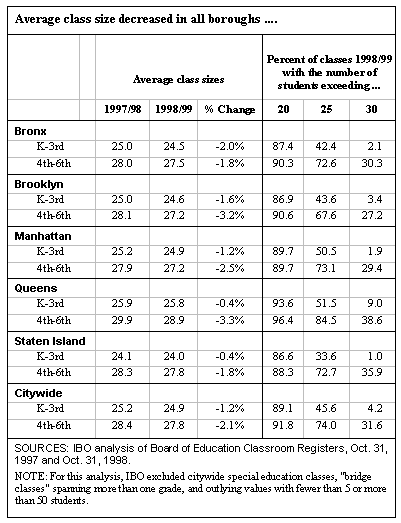 IBO analysis of BOE class registers found that average class size in kindergarten through the 3rd grade (K-3) and 4th through 6th grade (4-6) fell slightly between the last two school years. The average K-3 class size fell from 25.2 students to 24.9 students (-1.2 percent), and the average for 4-6 fell from 28.4 students to 27.8 students (-2.1 percent). The declines are attributable to an increase in the number of teachers, which outpaced enrollment growth last year.
There are significant differences among the boroughs, both in terms of average class size and in the amount of change from the prior year. Not surprisingly, schools in Queens had the highest average class sizes, with 25.8 students in K-3 classes and 28.9 students in 4-6 classes; however, Queens also showed the largest improvement from 1997/98 for grades 4-6, decreasing on average from 29.9 to 28.9 (-3.3 percent). Staten Island schools had the smallest K-3 classes with an average of 24 students, while Brooklyn and Manhattan schools had the smallest 4-6 classes, which average 27.2 students.
Large class size continues to be prevalent in the early grades. Across the city, 89.1 percent of all K-3 classes had more than 20 students in 1998/99 and 45.6 percent of the classes exceeded 25 students. Moreover, 4.2 percent of K-3 classes (546 classes) had more than 30 students. In grades 4-6, nearly one-third of the classes had more than 30 students (2,485 classes).
For more information about this issue, contact George Sweeting, a senior economist at IBO, at (212) 442-8642, or by email at georges@ibo.nyc.ny.us.